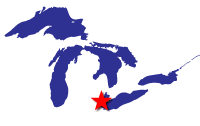 The U.S. Environmental Protection Agency has awarded a GLRI grant of $1,834,555 to the Alliance of Rouge Communities for habitat restoration projects at Colonial Park and Venoy Dorsey Park along the Lower Rouge River in Wayne County, Michigan. 
 
"Thanks to GLRI funding, we can expect to see decreased flooding and enhanced fish and wildlife habitat in the Rouge River watershed," said Regional Administrator and Great Lakes National Program Manager Kurt Thiede. "These projects will have a significant impact on the restoration of the Rouge River AOC."
 
ARC will use GLRI funding to create and restore wetlands at Colonial Park and Venoy Dorsey Park in the highly urbanized Rouge River watershed. Both parks are used for recreation but are prone to frequent flooding. The new and enhanced wetlands will help manage floodwater and provide more habitat for fish and wildlife. Invasive plant species will also be treated and native species will be planted. Overall, the projects are expected to provide six acres of new wetlands, three acres of improved wetland habitat, five acres of native tree plantings and a half acre of new native meadow habitat.