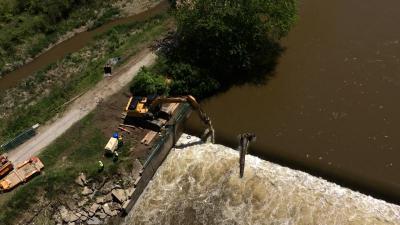 Local, state and federal partners have worked hard to finally start the process of removing the Brecksville Dam, which impairs conditions in the Cuyahoga River. Also known as the Canal Diversion Dam, State Route 82 Dam, and Station Road Dam, the structure is located in the Cuyahoga Valley National Park and is part of the Cuyahoga River Area of Concern (AOC).
Crews began the first step in removing the dam by "notching" in late May 2020. This will allow for water levels and deconstruction to occur in a controlled manner while also allowing for the historic wooden Pinery Dam to be uncovered. According to the National Park Service, in 1827 the Pinery Dam was originally constructed to divert water from the river into the Ohio & Erie Canal. The current concrete dam being removed was constructed in the 1950's to provide water to nearby industry. Once complete, the project will help restore free flowing conditions, enhance fish passage, and decrease sedimentation and provide for safer paddling and recreational opportunities. 
Removal of the dam is a key priority for local stakeholders and State and Federal Agencies. About 50% of the dam removal is funded through the Great Lakes Restoration Initiative (GLRI), with additional contributions coming from local and State sources. After removal of the dam is complete, the National Park Service will work with local groups to make sure water levels are maintained in the historic Ohio & Erie Canal.  This will allow for improved water quality conditions in the Cuyahoga River, while also preserving historic features in the Cuyahoga Valley National Park. Restoring the Cuyahoga River to its original conditions is a key part of bringing the AOC one step closer to beginning the process of delisting.