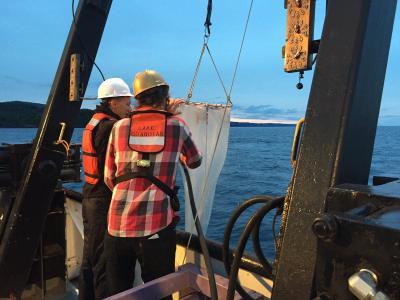 A new study published in the Journal of Great Lakes Research analyzes zooplankton data from the 2006, 2011, and 2016 Lake Superior Cooperative Science and Monitoring Initiative (CSMI) surveys, which were funded by GLRI. 
In support of CSMI, science and monitoring priorities for each of the Great Lakes are established by the Great Lakes Water Quality Agreement Lake Partnerships. For the 2016 CSMI, one of the key priorities identified by the Lake Superior Partnership was to assess the condition of the lower food web because lower food web conditions reflect the health of the lake and have implications for the condition of the upper food web. While Lake Superior's lower food web has been relatively stable in recent decades, compared to the other Great Lakes, its ecosystem still faces a variety of stressors. Monitoring lower food web conditions is a critical part of preserving the health of the lake. Lake Superior lower food web surveys were conducted during the 2006, 2011, and 2016 CSMI field years. 
The results suggested that crustacean zooplankton biomass in nearshore, midshore, and offshore depth zones of the lake were stable from 2006 to 2016. Variability that did occur was consistent with that observed in the GLNPO annual summer surveys. Rotifer densities were smaller in 2016 than in 2006 in all three depth zones sampled. There is little recent published information about rotifers in Lake Superior, so it is unknown if this observation is consistent with long-term trends. Rotifers are an important part of the lower food web and are a source of food for other zooplankton and small fish. Additional research should investigate possible reductions in rotifer densities in Lake Superior which may reflect changing ecological conditions and could result in other food web changes. 
The results reported in this paper will be useful in identifying future changes in the Lake Superior zooplankton community. This is especially important because the food web in shallow and deep areas of the lake may not undergo changes uniformly. This study also demonstrates how a lake-wide approach can be used for lower food web monitoring in a single large lake. Lastly, the comparison of data from CSMI and GLNPO surveys shows how using depth zone categorization for zooplankton data into can facilitate comparisons between surveys with contrasting designs.
The study was authored by USEPA scientists Matt Pawlowski (USEPA GLNPO, formerly ORISE participant at USEPA ORD) and Mike Sierszen (USEPA ORD, retired). The article, citation below, is available online in the Journal of Great Lakes Research and will be printed in the August 2020 edition.
Pawlowski M.B., Sierszen, M.E., 2020. A lake-wide approach for large lake zooplankton monitoring: Results from the 2006–2016 Lake Superior Cooperative Science and Monitoring Initiative surveys. Journal of Great Lakes Research. in press.