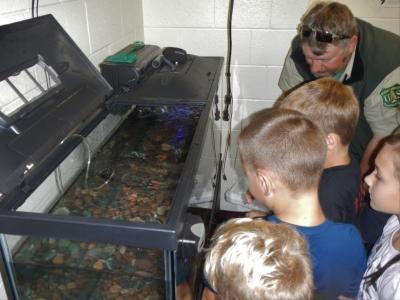 Federal, state, and tribal agencies are working together to restore a population of the largest fish in the Great Lakes, the lake sturgeon, to the Ontonagon River. This river is located in the remote western region of Michigan's Upper Peninsula (U.P.) and is Michigan's largest tributary to Lake Superior.
The historic sturgeon population in this river has been the focus of restoration work for partner agencies since the mid-1990s. This work has focused on rearing and stocking young lake sturgeon and surveys to assess their abundance, movement and growth. In fall of 2019, those efforts took on an additional component in the form of an education and outreach program known as Sturgeon in the Classroom.
Partners that support this program in Michigan's UP include the U.S. Forest Service's Ottawa National Forest, U.S. Fish and Wildlife Service's Ashland Fish and Wildlife Conservation Office, Michigan DNR, and five school districts located in or near the Ontonagon River watershed.
Great Lakes Restoration Initiative funding provided aquariums, equipment and supplies for the restoration and outreach efforts. The goal of the Sturgeon in the Classroom program is to incorporate hands-on, place-based education to educate students about lake sturgeon biology and restoration, and the importance of conservation and stewardship of the environment. 
In September 2019, during a visit from U.S. Forest Service and U.S. Fish and Wildlife Service biologists, each classroom received fingerling lake sturgeon that they raised in their classrooms until spring 2020.
Biologists had reared these fish through the summer of 2019 at the Ontonagon River streamside rearing trailer at the Bergland Dam. Most of these fish were then stocked in the Ontonagon River in fall 2019.
Students in each classroom were responsible for maintaining and cleaning the aquarium, testing the water quality, measuring fish growth each week, and feeding the fish. Biologists from the partner agencies periodically visited each classroom to talk about lake sturgeon and watershed conservation topics related to Lake Superior and the Ontonagon River.
In spring 2020, fish from each classroom received a tag (the size of a grain of rice) with a unique identification number. The tag allows an individual fish to be identified if agency biologists recapture it in the future. After inserting these tags, fish were released in the Ontonagon River to assist restoration efforts.
Students will be able to obtain information on "their" fish for the next 50-100 years through the Great Lakes Lake Sturgeon Tag Identification Database. This database contains agency biologist contact information for tagged lake sturgeon.
A search of the tag number for a particular fish in the database allows students, teachers, and school staff members to contact an agency biologist with all encounter records. If the fish has been recaptured during fishery assessment work, there will be information on how much it has grown and where it was recaptured.