Post Date
October 5, 2020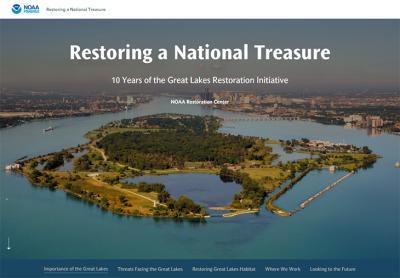 Since 2010, NOAA has worked through the Great Lakes Restoration Initiative to restore habitat across the Great Lakes region. NOAA's efforts have helped strengthen valuable Great Lakes fisheries and restore coastal wetlands that improve water quality. They also provide recreational opportunities for the public's use and enjoyment.
NOAA's GLRI story map highlights a decade of NOAA and partners' work in the Great Lakes. Projects have improved fish passage, cleaned up contaminated debris, restored coastal wetlands, and removed invasive species. Take a virtual tour of some of the major restoration projects from across the region, from the Buffalo River in New York to Michigan's Upper Peninsula.
As the largest freshwater system on earth, the Great Lakes are one of the most important natural resources in the world. They support recreational and commercial fisheries, industry, transportation, recreation, and tourism. 
But the Great Lakes ecosystem faces many challenges, including degrading habitat, overfishing, invasive species, marine debris, and pollution from oil and chemical spills. The quality and quantity of fish habitat in the Great Lakes has declined for decades and continues to be a concern.
Over the past decade, the NOAA Restoration Center has supported more than 70 projects through the GLRI. This work has restored more than 4,500 acres of habitat for fish and wildlife and opened up more than 500 miles of rivers and streams to fish migration.
 
Visit NOAA's StoryMap, Restoring a National Treasure, to take a virtual tour of NOAA GLRI projects.