Post Date
October 28, 2020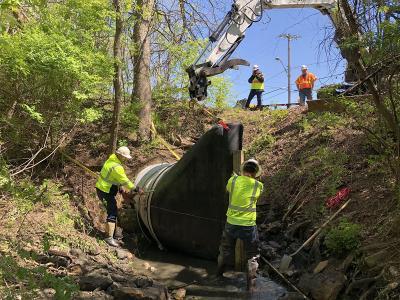 Every day, the U.S. Army Corps of Engineers' electric fish barriers deter the movement of Asian carp and other aquatic nuisance species from passing through the Chicago Sanitary Ship Canal and into the Great Lakes. But did you know there were a handful of other sites identified along the Great Lakes and Mississippi River basin divide as having a moderate likelihood for the transfer of species between the Great Lakes and Mississippi River basins? The U.S. Army Corps of Engineers and partners came together to create a barrier at one of these sites that would effectively prevent the transfer of invasive carp species between basins.
A five-mile stretch along the Ohio & Erie Canal towpath near Akron, Ohio was an area identified as having a moderate likelihood for the transfer of species between the Great Lakes and Mississippi River basins. Completion of construction in May 2020 has resulted in the installation of barrier measures at 14 individual locations to reduce the likelihood of movement between the basins by northern snakehead, silver carp, black carp and bighead carp, should they reach this location. 
At some locations, extreme flood events presented an especially high likelihood for the transfer of these species. Studies along the divide in this area showed the topography in some areas allowed overtopping by floodwaters and the construction project included raising ground surface elevations by top-dressing about 1,000 feet of the towpath, installing a 150-foot long concrete barrier, driving approximately 2,000 linear feet steel sheet pile, and installing 555 linear feet of stone-filled gabion baskets adjacent to the towpath to address these low points. At other locations, where direct movement between watersheds was possible during normal flow conditions, approximately 130 linear feet of fencing and individual screens have been installed as barriers.
Strong partnerships deliver stronger projects. The partnership of this project was stronger than the concrete and steel used during construction. Great Lakes Restoration Initiative funding made the work of the partnership possible.
Completing this project was an important step in protecting the health of the Great Lakes. Effective barriers are now in place at this key location and it was done in a proactive manner. Taking these steps now help us be prepared for what could eventually become a greater threat to the ecology and economy of the Great Lakes. Fortunately, the partnership has already turned its focus to targeting the other areas identified as priorities to prevent the migration of ANS and Asian carp into the Great Lakes basin from the Mississippi River basin.