Post Date
December 8, 2020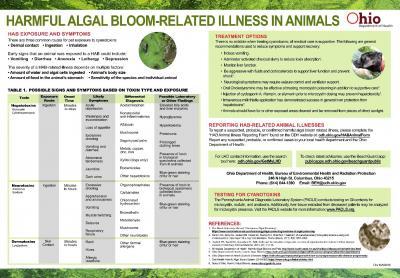 The Ohio Department of Health (ODH) has developed a reference poster and fact sheet on harmful algal bloom (HAB) poisonings in animals. Each year, ODH receives reports of pet illness or death as a result of exposure to HAB-contaminated waters in the Great Lakes basin. While the state has made several efforts to increase awareness and reporting of HAB-related illnesses in humans, resources highlighting the dangers HAB toxins pose to animals are lacking. This project aims to improve reporting and treatment for pets by providing more informational resources to the public and veterinary professionals. The project was supported by GLRI.
ODH partnered with the Ohio Veterinary Medical Association (OVMA) to develop a poster for veterinarians titled "Harmful Algal Bloom-Related Illness in Animals." The poster is a quick reference for the rapid diagnosis and treatment of pets. The poster includes sections on topics such as common recommended treatment options after exposure to algal toxins and how to report HAB-related animal illnesses in Ohio.
The state agency also developed a fact sheet titled "Harmful Algal Blooms: Information for Pet Owners" to increase awareness of the risk of illness in pets. The fact sheet describes how to reduce exposure risk in pets and possible exposure symptoms, among other HAB facts.
ODH printed 1,500 posters and 1,500 fact sheets to distribute to veterinary clinics throughout Ohio. These documents and additional information are available on the ODH HAB Information for Veterinarians webpage.