Post Date
January 4, 2021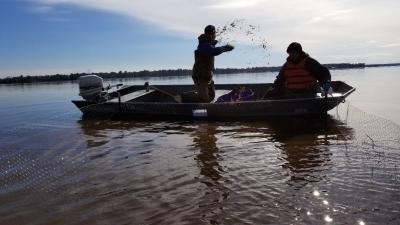 The Bay Mills Indian Community is a federally recognized Indian Tribe in Chippewa County, Michigan. The land area of the Bay Mills Indian Community Reservation is comprised of 3,405 acres held in trust by the federal government, with a large portion located on the shores of the upper St. Marys River. Reservation lands include inland lakes and wetlands and many miles of streams and lake shoreline. The Tribe also claims a 77,170-acre reserve in Whitefish Bay in Lake Superior and includes Waishkey Bay in the Upper St. Marys River.
In 2019, the Bay Mills Indian Community, through the support of the Great Lakes Restoration Initiative, began a project to investigate the impact of common carp on wild rice restoration in Waishkey Bay in the upper St. Marys River. Wild rice (Zizania palustris) is an important cultural, spiritual, and dietary resource to Lake Superior Ojibwe. It is also an important food source for resident and migratory waterfowl, while providing forage and cover for many other wildlife species in the Midwest and Great Lakes regions. Common carp (Cyprinus carpio) are an invasive species that negatively impact aquatic vegetation through changes in water quality, uprooting of plants, and consumption of seed.
As the project enters its final year, substantial progress has already been made on several objectives. The objectives of the project include determining seasonal overlap of common carp and wild rice locations, how long carp utilize potential wild rice habitat, carp's impact on wild rice seeding, and assessing how viable carp control may be.
Acoustic telemetry was used to document common carp movements in Waishkey Bay where wild rice habitat is present. Common carp were observed to spend much of their time in Waishkey Bay but also moved out of Waishkey Bay, and traveled distances up to 600 km during a two-month period, which has not been previously documented. Most carp returned to Waishkey Bay during fall, no matter how far they traveled. The time common carp spent in Waishkey Bay strongly overlapped with wild rice habitat, especially during the carp's spawning period, a time when wild rice is most susceptible to disturbance. However, this overlap did not observably impact wild rice seeding success. Wild rice grew at all sites, whether protected or unprotected from common carp, a result that shows promise for the success of wild rice restoration efforts in Waishkey Bay.
Other studies and efforts suggest that current low carp densities in Waishkey Bay may be a factor in that success and that restoration efforts should target areas where common carp spawning aggregations do not occur.