Post Date
January 21, 2021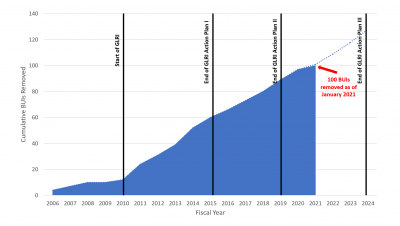 100 out of a total of 255 Beneficial Use Impairments have now been removed
The U.S. Environmental Protection Agency (EPA) has announced the removal of the 100th Beneficial Use Impairment (BUI) from a U.S. Area of Concern (AOC), a historic milestone in restoring the Great Lakes.
The accomplishment occurred at the Black River AOC near Lorain, Ohio -- one of the 43 AOCs identified by the United States and Canada in the mid-1980s as the most environmentally degraded areas in the Great Lakes ecosystem.
At the Black River AOC, EPA removed the degradation of aesthetics beneficial use impairment that was caused by environmental issues dating back decades, including upland erosion, mill dams, stream channelization and modifications, litter/trash dumping, and oil and grease deposition. With the removal of this BUI, other federal, state, and municipal programs now in place will address any future sources of oil/grease and litter/trash.
GLRI critically important
Only ten BUIs were removed from the 1980s until the start of the Great Lakes Restoration Initiative (GLRI) in 2010. Since then, EPA and its many partners accelerated progress being made at AOCs and removed an additional 90 BUIs at U.S. AOCs across the Great Lakes. These BUI removals are critically important steps towards ultimately delisting the remaining AOCs and promoting economic revitalization in the communities where the AOCs are located.
Under the GLRI Action Plan III, EPA has set a goal of removing a cumulative total of 101 BUIs by the end of September 2021. EPA is on target to exceed that goal. There are 155 BUIs that still need to be removed from the 26 remaining U.S. AOCs. Of the original 31 U.S. AOCs, five have been "delisted" or successfully cleaned up, including the Lower Menominee River AOC on the Michigan and Wisconsin border, which was delisted in the summer of 2020.
Read the full EPA news release