Post Date
February 17, 2021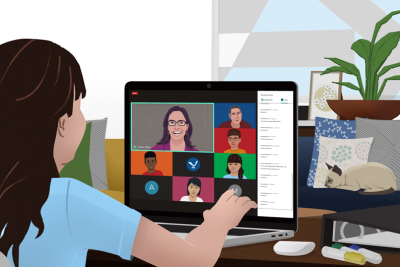 Illinois-Indiana Sea Grant (IISG) originally developed the Students Ask Scientists (SaS) program to virtually connect classrooms with scientists on board the EPA research vessel, the Lake Guardian. In a typical year, classrooms call scientists while they're out on the Great Lakes and get virtual tours of the ship, see samples collected and processed, and ask questions about Great Lakes science and careers.
This past year, due to COVID-19, SaS videocasts needed to be refashioned with both scientists and students now working from home. These connections took several forms. Middle school students in Elgin, Ill., recorded questions and received video answers from seven Great Lakes scientists over the course of a week using an asynchronous education platform.
Many of the questions focused on Great Lakes conditions and issues, but some were more personal in nature, such as what is your favorite thing about being a scientist?
Student groups from New York and Wisconsin participated in live video calls, providing them the opportunity to chat directly with scientists who could answer their questions about the Great Lakes and what daily life is like in their line of work.
Reflecting on the SaS calls with her middle school learners, a science teacher in Carthage, N.Y., said "During the two weeks I covered many different ecological topics and, when I surveyed my students, half said that the time with the scientists was their favorite! It was engaging, enlightening, and helped the students make real world connections."
With the continued uncertainty of in-person learning in the new year, the SaS videocall program is one sure way to connect students with current Great Lakes issues and open their eyes to new career possibilities.
This project was supported by the Great Lakes Restoration Initiative.