Post Date
February 18, 2021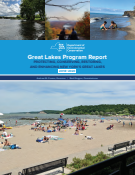 New York State's Department of Environmental Conservation (NYSDEC) published its 2018-2020 Great Lakes Program Report in late February.
The report highlights progress on actions to improve water quality and shoreline restoration in Lake Erie and Lake Ontario under New York's Great Lakes Action Agenda.
It includes efforts and investments to promote environmental justice, protect source waters, and improve community resilience to flooding.
From 2018-2020, partners in New York have implemented over $19 million in funding for 117 projects funded under the Great Lakes Restoration Initiative, including projects for green infrastructure, removal of beneficial use impairments at Areas of Concern, and habitat restoration.
Great Lakes Program Report 2018-2020 (PDF, 20 pp.)