Post Date
February 23, 2021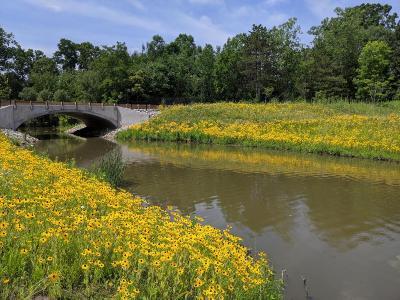 Project partners have completed the third stage of a GLRI-funded project to restore oxbow wetland habitat in the Rouge River Area of Concern (AOC). This project was a priority to address the habitat and population-related beneficial use impairments of the AOC. It continued work focused on restoring oxbow wetlands, portions of original streams or creeks that are separated from the flow of water.
These wetlands were originally impacted when communities in the Dearborn and Melvindale areas of the Rouge River faced flooding, which was addressed by a flood control project authorized by the Flood Control Act of 1962 and completed in the mid-1970s. The hydraulically efficient concrete channel from that project controlled flooding but eliminated portions of the River and wetlands in the area, preventing the passage of most fish from the abundant Detroit River to the upper reaches of the Rouge River. 
In an effort to provide habitat, resting locations for migratory fish, recreational opportunities and restored wetland areas, Wayne County, Michigan, and The Henry Ford Historic Site (a nonprofit nationally recognized historical destination organization from Dearborn), and the Alliance of Rouge Communities began to restore the Oxbow in 2002.
This third phase, completed in 2020, created the last hydraulic connection and habitat improvements needed to complete this project. This project has reconnected 2,700 feet of naturalized oxbow to 20 miles of the Rouge River, 100 miles of its tributaries, and ultimately the Great Lakes. Restoring connectivity to the Rouge River along with 13 habitat structures created will benefit several fish species, including largemouth bass, bowfin, and sunfish.
Related Story  More Success in the Rouge River AOC: Oxbow Restoration Phase 3 - November 2018