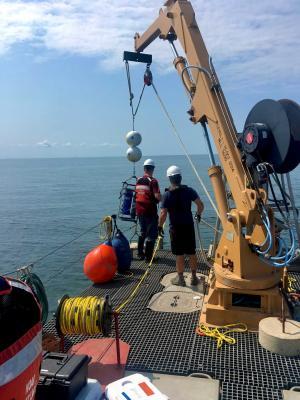 A new study shows that internal phosphorus loading – the process by which lake-bottom sediments release phosphorous – is a consequence of Lake Erie's central-basin "dead zone," an oxygen-starved area of the lake bottom.
The study has implications for how internal phosphorous loading estimates should be considered when determining how to manage the total phosphorus load to the lake in order to meet desired water quality objectives.
The results also improve our understanding of the timing and rates of internal phosphorus loading to Lake Erie's central basin, including how this process may be exacerbated as Lake Erie warms, leading to potentially greater impacts on the Lake Erie ecosystem.
The study was conducted by researchers at the University of Michigan along with scientists from the NOAA Great Lakes Environmental Research Lab. The in situ, continuous monitoring phosphorus sensors used in the study to quantify the internal loading rates were purchased using GLRI funds.