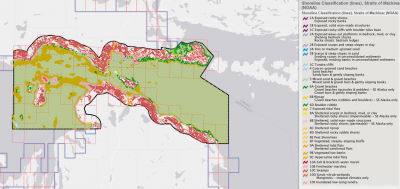 A new NOAA blog post describes how, with Great Lakes Restoration Initiative funding, NOAA's Office of Response and Restoration completed updates to Environmental Sensitivity Index maps for two Great Lakes regions—the Straits of Mackinac and the St. Clair-Detroit River System.
Updates to Great Lakes mapping data contribute to a repository of ecological data in the region and help protect diverse, rich habitats such as sensitive marshes and coastal wetlands, wildlife including threatened and endangered species, and human-use resources such as public beaches and parks. ESI maps are a NOAA product that provides a concise summary of coastal resources that are at risk if an oil or chemical spill occurs nearby.
See "Two Recent Updates in the Great Lakes" in the blog post for more information on Great Lakes mapping updates funded by GLRI.
Are We Prepared for Oil Spills at Niagara Falls and Mackinac Island?