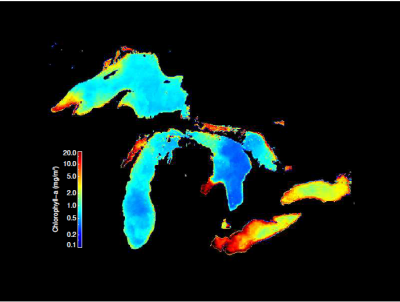 U.S. Environmental Protection Agency Great Lakes National Program Office has released a new report that summarizes the status and trends of several key components of the lower food web from the late 1990s to 2018. The data presented were collected through GLNPO's long-term Great Lakes Water Quality Monitoring Program and Great Lakes Biology Monitoring Program and supported by the Great Lakes Restoration Initiative.
GLNPO's monitoring programs are unique in that they annually sample open water conditions across all five Great Lakes using standardized methods. The data generated are used to assess ecosystem health and better understand the drivers of long-term changes in food web structure, including the impacts of invasive species like dreissenid mussels. In addition, knowledge on the status of the lower food web is critical for effective management of Great Lakes fisheries.
Key Findings: Lower Food Web Status and Trends
Across the Great Lakes, proliferation of invasive dreissenid mussels has been coincident with major food web changes, especially lakes Ontario, Michigan, and Huron. Dreissenid mussels can have significant effects on nutrient cycling and decrease the abundance of algae in offshore waters, impacting the food web.
Lake Erie continues to have high levels of nutrients, phytoplankton and cyanobacteria, which are associated with harmful algal blooms and low bottom-water oxygen in Lake Erie's central basin. No directional changes have been observed in other components of the lower food web, and the abundance of both zooplankton and benthic invertebrates remains high.
Lake Ontario has experienced increases in water clarity along with decreases in nutrients, algae and zooplankton in recent decades. The zooplankton community has changed so that it is now more similar to that of Lake Michigan, and it is dominated by species that live deeper in the water column. These changes have been driven by a combination of reduced nutrient loads, impacts of dreissenid mussels that continue to increase in numbers, and changing levels of fish predation.
Lakes Michigan and Huron have both undergone dramatic changes since the late 1990s, but the conditions in the lakes appear to be stabilizing in recent years. Long-term changes include significant increases in water clarity and decreases in the biomass of lower food web biota that live in the water column as the offshore waters in these lakes have become starved for nutrients. These trends are partly in response to effective management for water quality (such as a reduction in phosphorus loading that began in the 1980s), but they are also largely driven by the invasive mussels that now make up over 90% of the benthic invertebrate biomass in these lakes.
At the same time, Diporeia, an important native amphipod species that lives in the sediment, has declined and is now rare in these lakes. The open waters of Lakes Huron and Michigan are now quite similar to Lake Superior in terms of lower food web biomass and species composition, suggesting reduced ability to support higher trophic levels.
Lake Superior's lower food web and water quality has not changed very much since GLNPO monitoring began. Although springtime productivity may be increasing slightly, there have been no systematic changes observed in the lower food web. Invasive dreissenid mussels have not established large populations in Lake Superior, and Diporeia are still abundant.