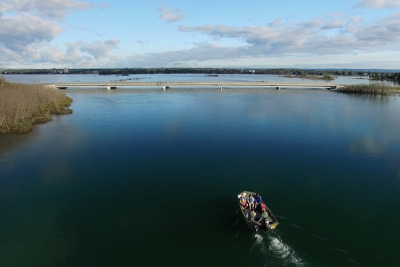 Over the past century, the St. Marys River, a Great Lakes Area of Concern, has lost more than half of its historical rapids due to hydropower generation and navigational alterations.
In 2016, NOAA and partners completed a project to restore fast-flowing rapids on the St. Marys River in Michigan's Upper Peninsula.
According to a recent study published in the journal Restoration Ecology, monitoring of the restored rapids has shown promising results: the number of juvenile fish using the area has almost doubled. Restoring the rapids is an important step toward removing the river from the list of AOCs.
Researchers plan to continue monitoring the river over the next several years. NOAA worked through the Great Lakes Restoration Initiative to complete this project, among many other restoration projects, in the Great Lakes region.