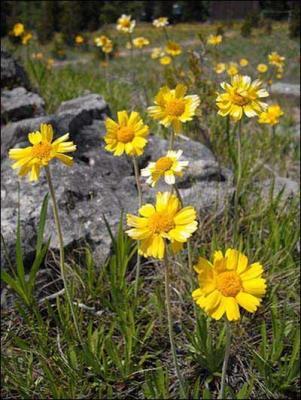 Standing on a rocky limestone landscape with only short grass covering patches of it, you can also see a little golden flower in full bloom. As insignificant as these flowers may seem, these are one of the rarest flowers in the Great Lakes, the Lakeside Daisy.  
The Lakeside Daisy (Hymenoxys acaulis var. glabra) is a long-living perennial that thrives in barren limestone bedrock in full sunlight. Classified as "Threatened" in 1988 and listed on the Federal Endangered Species list, their unique habitat requirements mean they only occur in a handful of locations around the Great Lakes. These sites include Marblehead Peninsula in northern Ohio, three restored populations in northern Illinois, a small population in the Upper Peninsula Michigan and parts of Ontario, Canada such as the southern coast of Manitoulin Island. Their population decline can be attributed to increased limestone quarrying which damages their habitat, increased development, and recreation in and around their habitat, and fire suppression practices, which limit natural wildfires that clear grasslands and allow the daisy to thrive.
The Lakeside Daisy supports pollinators such as bees (bumblebees, small carpenter bees and halictid bees), flies, butterflies and skippers, and also relies on these pollinators for cross pollination. As a result of cross pollination, a week after their bloom in late April or mid-May, the petals will fall off. Seed dispersal will occur about a month later. Protecting Lakeside Daisy habitat and its pollinators is critical for restoring the flower's populations. 
Currently, the daisies are beginning to create a golden sea across the landscape in the few areas where they still bloom in abundance. One place you can still see Lakeside Daisy is the Lakeside Daisy State Nature Preserve in Ohio, which includes the Marblehead Peninsula of Lake Erie. This former limestone quarry contains the only natural substantial population of Lakeside Daisy in the United States.
Using GLRI funding, US Fish and Wildlife Service, Western Reserve Land Conservancy, Cleveland Museum of Natural History, Erie Metroparks, Chicago Botanic Garden, Michigan Nature Association, and Ohio Department of Natural Resources have been working to establish new populations of Lakeside Daisy at new locations such as Huntley Beatty Quarry and Castalia Quarry, and continue to conduct research to ensure diverse genetic populations. This effort is one of many efforts supported by GLRI.
A related and larger collaborative effort is the Pollinator Task Force. Led by the US FWS as a collaboration with EPA, U.S. Forest Service, National Park Service, Natural Resource Conservation Service and U.S. Geological Survey, this task force prioritizes the protection of native insect pollinators by increasing populations, restoring habitat, and increasing public awareness of pollinator conservation issues and efforts throughout the Great Lakes Basin.
More Information on the Lakeside Daisy: