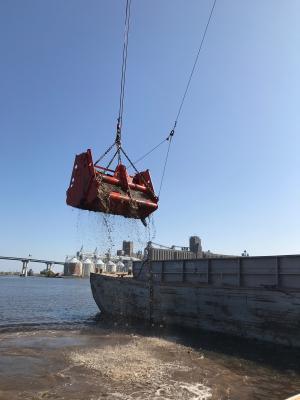 This week, U.S. Environmental Protection Agency begins dredging contaminated sediment in the St. Louis River Area of Concern at Howards Bay in Superior, Wisconsin. Sediment in Howards Bay is polluted with contaminants typically associated with fossil fuels such as coal, gasoline and oil.
The cleanup extends from Hughitt Slip to the head of Howards Bay near 5th and Main Street. This cleanup effort is a combination of routine navigation dredging along with environmental restoration to remove the contamination. 
The $12.1 million cleanup is a voluntary project funded by the federal Great Lakes Restoration Initiative and non-federal partners, Fraser Shipyards Inc., Wisconsin Department of Natural Resources, and the city of Superior.
Read the full EPA news release