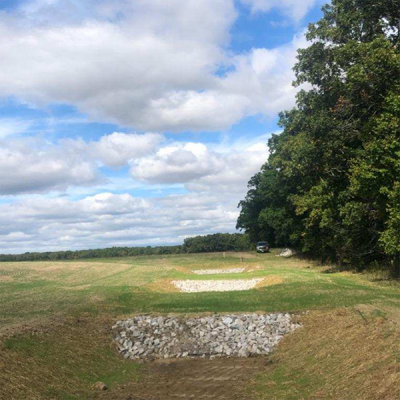 EPA will soon offer $9 million in grant funding applications which will go toward roughly 24 projects aimed at addressing stormwater runoff carrying pollution from the land into water bodies. These projects will also support innovative efforts to reduce nutrients from agricultural runoff in the Great Lakes basin.
EPA will post a Request for Applications on its website, where interested applicants can find a summary of the funding opportunities. Once the RFA is open, applicants will have approximately 60 days to submit their applications on Grants.gov. The funding is made possible by the Great Lakes Restoration Initiative.
There are three categories of projects to apply for: 
Riparian restoration to reduce runoff

Riparian refers to the area of land along the water with unique characteristics that help protect our streams and rivers and support wildlife. Riparian areas help filter pollutants trying to make their way into the Great Lakes.

Addressing legacy phosphorus in agricultural settings

Legacy phosphorus refers to soils that have been heavily fertilized in the past. A few examples could include using engineered or natural hydrologic structures designed to intercept and filter agricultural runoff with high legacy phosphorus levels.

Green infrastructure in shoreline communities - special consideration given to projects benefiting underserved communities 

Green infrastructure uses vegetation and soils to mimic nature as it soaks up stormwater. These elements provide cleaner water, cleaner air, and flood protection to the local community.
For purposes of this announcement, the term "underserved community" refers to a community with environmental justice concerns and/or vulnerable populations, including people of color, low income, rural, or indigenous populations that may be disproportionately impacted by environmental harms and risks.
Eligibility
Nonfederal governmental entities, including state agencies, interstate agencies, federally recognized Indian tribes and tribal organizations, local governments, institutions of higher learning (i.e., colleges and universities), and non-profit organizations as defined in 2 C.F.R. § 200 are eligible to apply for funding under this RFA.  Individuals, foreign organizations and governments, nonprofit organizations exempt from taxation under Section 501(c)(4) of the Internal Revenue Code that engage in lobbying, and "for-profit" organizations are not eligible.