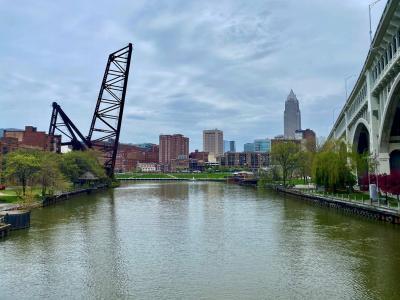 U.S. EPA  announces the removal of the Eutrophication or Undesirable Algae Beneficial Use Impairment at the Cuyahoga River Area of Concern.
BUIs are designations created by the International Joint Commission that represent different types of significant environmental degradation. See Beneficial Use Impairments for the Great Lakes AOCs to learn more.
U.S. EPA and the State of Ohio worked with local partners to monitor the environmental health of the Cuyahoga River to ensure it met the BUI removal criteria.
Dissolved oxygen data presented in the report indicated that the Cuyahoga River near Lake Erie meets the State of Ohio dissolved oxygen criteria for warmwater habitat streams (5.0 mg/L). The report further indicates a lack of persistent problems with nuisance aquatic weeds or undesirable algae within the AOC. By meeting these criteria, USEPA, the State of Ohio, and the Cuyahoga River Advisory Committee were able to remove this BUI at the Cuyahoga River AOC. 
BUI removals are a good indication that the environmental health of the AOC is improving. To date, the Cuyahoga River AOC has removed three BUIs; six more remain. Once all BUIs at the AOC are removed, USEPA can begin the process of delisting the AOC, or removing it from the list of the 26 remaining AOCs in the U.S.
Across the U.S. AOCs program, 101 BUIs have been removed. Ninety-one of these BUIs were removed after the Great Lakes Restoration Initiative began in 2010, which is more than nine times the progress made prior to that. GLRI funding has been critical to this success. While significant progress has been made across the AOC program, there is still plenty of ongoing and upcoming work needed to fully restore the AOCs.