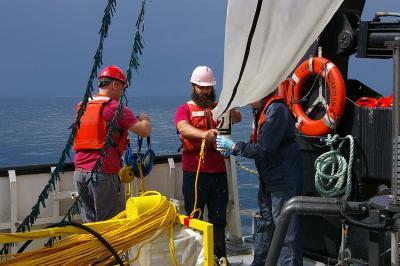 Contaminants in the aquatic ecosystem can bioaccumulate through the food chain and potentially become present at higher concentrations in predator fish at the top of the food chain, such as lake trout and walleye. 
U.S. Environmental Protection Agency's Great Lakes National Program Office has monitored contaminant levels in top predator fish in the Great Lakes through the Great Lakes Fish Monitoring and Surveillance Program since the late 1970s. EPA collects fish from fixed sampling sites in each lake and then analyzes them for contaminants and reports the results.
To better understand contaminant cycling in the Great Lakes open water food web, EPA and EPA-funded researchers from Clarkson University, SUNY-Fredonia, SUNY-Oswego, and Academic Environmental/ Analytical Consulting Services, LLC will assess the concentrations of legacy contaminants and chemicals of emerging concern in the lower food web as part of the 2021 Lake Superior Cooperative Science and Monitoring Initiative and in support of the GLFMSP. 
Sampling will be conducted from the EPA research vessel Lake Guardian at the Apostle Islands and Keweenaw Point long-term GLFMSP fish collection sites. Researchers will collect water, phytoplankton, zooplankton and benthic organisms for contaminant analyses, thus targeting the major components of the Lake Superior lower food web.
Results from the Lake Superior CSMI GLFMSP surveys supplement EPA's long-term datasets. This survey and the GLFMSP are supported by the Great Lakes Restoration Initiative.