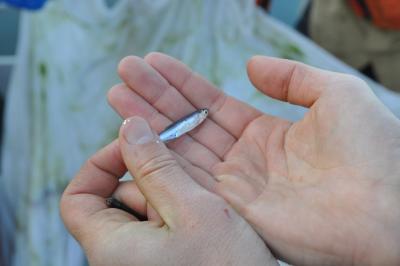 U.S. Army Corps of Engineers Buffalo District has awarded a $1.6 million contract to Bidco Marine Group for a fish passage demonstration project along the Niagara River, adjacent to Broderick Park in the City of Buffalo, NY. This project is funded through the GLRI.
The construction will repair approximately 78 feet of the existing seawall and install baffles designed to reduce the water velocity below what is necessary to support emerald shiner migration. Post construction monitoring of the project will demonstrate the ability to apply the design in future settings.
The emerald shiner is a small prey fish and a critical component of the Niagara River and Lake Erie food web. Hardened shorelines along the Niagara River create high water velocities that strictly limit the ability of emerald shiner to migrate into Lake Erie, posing a threat to populations of these prey fish and the larger fish and wildlife populations that depend on them.
The contractor will begin work this summer and USACE Buffalo District will monitor the project for a year after construction is completed. The project is intended to contribute to habitat objectives identified to restore the Niagara River Area of Concern.