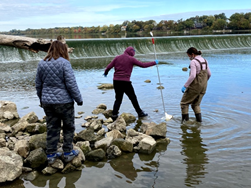 The National Oceanic and Atmospheric Administration announced $876,477 in funding for 11 projects under the Great Lakes Bay Watershed Education and Training program. Great Lakes B-WET is funded by the GLRI.
The 11 funded projects throughout the Great Lakes basin are:
St. John Fisher College: Our Lakes, Streams, and Rivers: Online and Field-based Hybrid Teacher Training
Eastern Michigan University: Stormwater Stewards, Creating Resilient Teacher Learning Communities to Support Youth-Led Action
Genesee County Soil and Water Conservation District: Great Lakes Water Sources: A Multifaceted Meaningful Watershed Education Experience for Genesee County Students
Grand Valley Metropolitan Council: Blue Crew: Student Stewards of the Lower Grand River Watershed
Lake Superior State University: Increasing freshwater and data literacy among high school students through real-time stream monitoring with MiWaterNet
Michigan Technological University: Lake Superior Stewardship Initiative, Expanding Meaningful Watershed Educational Experiences for Rural Schools
Regional Science Consortium: The Great Lakes W.I.S.E. Program - Developing environmental leaders through Watershed Immersive Stewardship Experiences
The Red Cliff Band of Lake Superior Chippewa Indians & the University of Wisconsin: Nibi gaa-gikinoo'amaage, Nibi gaa-bimaaji'iwemagak (Water will Teach, Water Will Give Life)
University of Toledo: Maumee River Floating Laboratory on Watershed Science (FLOWS)
Wisconsin Sea Grant: Coastal Engineering Education: People, Place and Practice - An Innovative Watershed Approach
Wisconsin Wildlife Federation: For the Birds -- and People Too: Understanding Interdependence of Living Things in the Lake Michigan Watershed
The NOAA B-WET program offers competitive grants to support existing environmental education programs, foster the growth of new programs, and encourage development of partnerships among environmental education programs within watershed systems. The criteria for these awards emphasize Meaningful Watershed Educational Experiences: sustained, hands-on, environmental activities that are aligned with academic learning standards.
The Notice of Funding Opportunity for FY2022 Great Lakes B-WET is currently open: it closes Sept. 9, 2021.
The Federal Funding Opportunity number is NOAA-NOS-ONMS-2022-2006929 in grants.gov.
For more information about Great Lakes B-WET, please contact Sarah Waters at sarah.a.waters@noaa.gov.