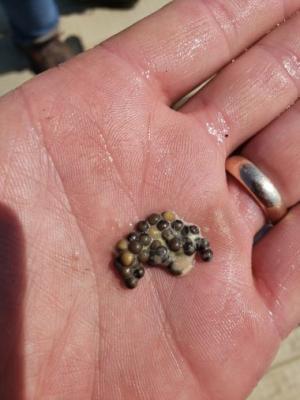 After more than 50 years of being notably absent, a spawning female lake sturgeon has been found in the Lower Genesee River. A field crew from U.S. Geological Survey's Tunison Laboratory of Aquatic Science, led by Dr. Dawn Dittman, is responsible for collecting the 61-inch, 70-pound female on the shores of the river in Monroe County. 
Since 2003, the New York State Department of Environmental Conservation has been stocking the Lower Genesee River with juvenile lake sturgeon in an effort to reintroduce the once prolific species to the waterway and assist in its recovery. DEC commissioner Basil Seggos commented on the monumental finding, stating that "Working with our partners, DEC's investments and efforts to stock and clean up the Genesee watershed have paid off for lake sturgeon in the Genesee River."
This section of the Lower Genesee River is part of the Rochester Embayment Area of Concern a designation it received under the Great Lakes Water Quality Agreement between the U.S. and Canada due to significant environmental degradation. The return of spawning lake sturgeon to this area signifies that local, state, and federal restoration efforts within the AOC have been a resounding success. GLRI funds are a significant source of funding for projects supporting the ongoing habitat and water quality restoration efforts within the AOC.
Read the full NYDEC news release