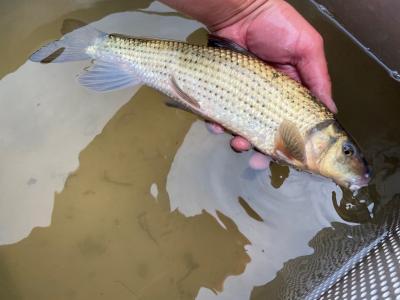 In June 2021, field crews from the US Geological Survey New York Water Science Center, US Fish and Wildlife Service New York Field Office, Seneca Nation Environmental Protection Department  and New York State Department of Environmental Conservation  worked collaboratively to collect fish from the Buffalo River and the reference site of Cattaraugus Creek in western New York.
The goal of this effort is to assess the effectiveness of past sediment remediation and habitat restoration in the Buffalo River Area of Concern and their impact on three Beneficial Use Impairments:
Restrictions on Fish and Wildlife Consumption
Bird or Animal Deformities or Reproductive Problems
Fish Tumors and Other Deformities
The GLRI provides funding for the Buffalo River AOC sampling and analysis effort.
During the week of June 14, staff from USGS and USFWS collected nearly 500 fish from five target species/groups from both rivers for analysis of PCBs, PAHs, pesticides, and selected metals in fillets and (or) whole fish. Staff from the Seneca Nation EPD participated in fish collection and oversight during electrofishing conducted in Cattaraugus Creek. The results from the two rivers will be compared to determine if conditions in the Buffalo River approximate conditions in the non-AOC reference site at Cattaraugus Creek and to assess the status of the Bird or Animal Deformities or Reproductive Problems BUI. The results from just the Buffalo River will be used to evaluate the status of the Restrictions on Fish and Wildlife Consumption BUI. 
Sampling also involved capture and release of numerous Spotted Sucker (Minytrema melanops) and Longnose Gar (Lepisosteus osseus) in the Buffalo River. While the gar is native to this region, this species of sucker has recently extended its distribution eastward into tributaries of eastern Lake Erie. The presence of both species in the Buffalo River is positive news because both are generally intolerant of polluted waters.
During the week of June 21 staff from the USGS, USFWS, and NYS DEC also collected 50 Brown Bullhead from the Buffalo River AOC and excised livers (for histopathology) and otoliths (for aging) and catalogued any internal and external anomalies to generate data needed to evaluate the status of the Fish Tumors and Other Deformities BUI.
The successful fish collection follows several years of collaboration among AOC Remedial Advisory Committee members, state and federal agencies, an industry partner and private consultants. These stakeholders created a sampling design that satisfied the data requirements of multiple BUIs while also sacrificing the fewest fish.