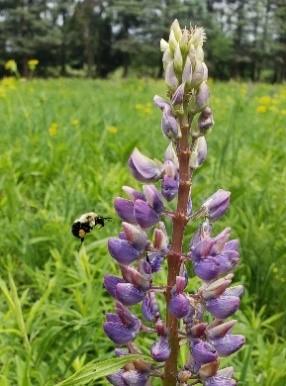 Pollinator populations in the Great Lakes basin and around the world have been steadily declining. As a result, pollinator conservation has gained national attention, including a 2014 Presidential Memorandum encouraging the protection of pollinators. Native bees pollinate native plants and are the most effective native pollinators in the Great Lakes basin. The GLRI Pollinator Task Force is a collaborative effort supported by GLRI and led by U.S. Fish and Wildlife Service that aims to conserve native insect pollinators, specifically native bees. Recently the Pollinator Task Force created a Pollinator Task Force Story Map that highlights their progress and efforts to protect native bees. 
To improve native bee and other pollinator populations, the Pollinator Task Force consolidated information from various sources to fill in knowledge gaps about native bee populations including where native bees are located, habitat conditions, and diversity. This allowed for development and use of a standardized bee survey methodology across the Great Lakes basin. The first year of these surveys was marked by the discovery of a rare cuckoo bee (Epeoloides pilosulus) population in the Chequamegon-Nicolet National Forest in 2019. 
Pollinator Task Force partners have completed restoration of 100 acres of pollinator habitat with the U.S. Fish and Wildlife Partners for Fish and Wildlife Program, private landowners, and other agencies. The Pollinator Task Force plans to implement more than 1,800 acres of habitat restoration over the next three years. Additionally, the Pollinator Task Force and its partners are developing a communication strategy and intend to expand their communication efforts to reach more partners and stakeholders. 
All these activities and more are described in the Story Map.