Post Date
September 29, 2021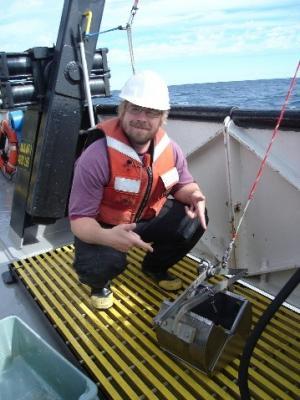 From 2010 to 2018 the USGS Mercury Research Lab teamed up with the University of Wisconsin onboard the EPA R/V Lake Guardian to monitor inorganic and methylmercury dynamics in the five Great Lakes.
Through the combination of vertically, seasonally, and spatially comprehensive water quality measurements and collection of particles suspended in water (called seston), the research team learned that, while methylmercury concentrations in the waters of Great Lakes are very low, the transfer of the methylmercury to phytoplankton was higher than expected.
In the Great Lakes, methylmercury sorption to phytoplankton is highly favored due to the low quantity and specific quality of dissolved organic carbon in the water. This is important because the bioaccumulation of methylmercury into phytoplankton sets the baseline for methylmercury accumulation in fish.
The research team also suggests that the Great Lakes' susceptibility to methylmercury bioaccumulation make them excellent sentinels to track the progress of mercury reduction efforts at local, regional and global scales.
This study is published in the American Chemical Society's journal Environmental Science and Technology. This study and EPA's R/V Lake Guardian support were funded under the GLRI.
Published study: Enhanced Susceptibility of Methylmercury Bioaccumulation into Seston of the Laurentian Great Lakes