Post Date
August 11, 2022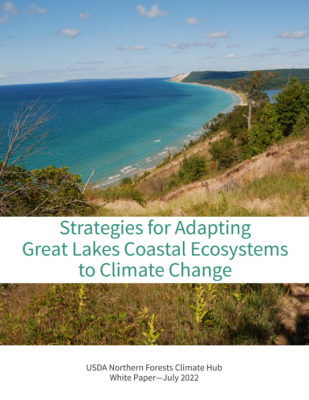 The U.S. Fish and Wildlife Service (Service) announces availability of the publication Strategies for Adapting Great Lakes Coastal Ecosystems to Climate Change. The Service and USDA's Northern Institute of Applied Climate Science (NIACS) led a binational team of more than 20 regional managers and scientists over the course of three years to develop this resource with funds provided by the Great Lakes Restoration Initiative.
This tool bridges the gap between general climate science concepts and local conditions. It provides natural resource planners, practitioners, and managers a "Menu" of tangible strategies and approaches for adapting to climate change they can integrate into planning, implementing, and monitoring on-the-ground projects in Great Lakes coastal ecosystems. It has already been used with NIACS's Adaptation Workbook to plan climate-informed tactics for several real-world coastal projects in the Great Lakes.
We hope you will consider integrating strategies and approaches identified in the Menu into your GLRI-funded and other Great Lakes coastal restoration work. Let Christie Deloria (christie_deloria@fws.gov) and Bob Krska (robert_krska@fws.gov) of the Service know what your experience was in applying the Menu to your coastal restoration project(s). 
Contact Christie or Bob if you have questions or would like more information.